Photo Above – Pembina North Community School students sang Christmas carols at the Smithfield and Pembina Lodges in Westlock.
Throughout the year, our schools have a tradition of giving to those in need. Here is a snapshot of some of the things our schools take part in.
Barrhead Composite High School – Junior and Senior high students raised $8,600 for the Stollery Children's Hospital with their  wake-a-thon "Staying up for the Stollery" on Nov 30 – Dec 1. Between the ice cream and hot dog sales, torture the teacher and donations, they raised $8,600 for the Stollery. A huge thank you to Mr. Smith and Mr. Dewar for organizing, as well as all of the staff who volunteered to supervise and help.
In November some classes at Barrhead Composite High School put the final touches on their Operation Christmas Child boxes which will be sent to children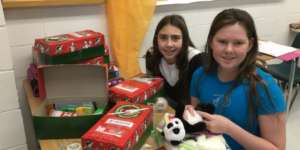 in need in Ukraine. It is wonderful to see our students taking the time to brighten someone else's day and bring hope.
---
Barrhead Elementary School – The Grade 6 Classes would like to thank all those that brought in baking for the FCSS Toy Drive Bake Sale and also thank all those that bought baked goods during the two day sale or donated money. Over $630 was purchased and this money will go towards buying toys for the Toy Drive. On Friday December 7th, 6A will be shopping for toys and in the afternoon will be delivering to the FCSS.
Ms. Chapman's Grade 2 class is filling December with Gifts of Kindness! On Day 1 they sent Christmas cards to soldiers.
---
The newly renovated foyer at Busby School is beautifully decorated and includes a 'Tree of Warmth'. They are collecting new mittens, hats, and socks to hang on our tree and then the items will be donated to those less fortunate. As well, we are graciously accepting items for Christmas hampers for families in the school who need an extra hand this Holiday season. Stay tuned to see how many items they collect on their tree.
---
R.F. Staples Secondary School – For the second year in a row, students and staff at R.F. Staples Secondary School are giving back to their community through the Christmas Star initiative. This year, their tree started out with 87 stars, each one has the age and gender of a child who would not be receiving a Christmas gift — participants then purchase a gift for that child and drop it off at the office.
---
Pembina North Community School students once again took part in the We Scare Hunger Food Drive Campaign, organized by Westlock Ford. Students brought in 920 kg (2,025 lbs) of food that was then donated to the local Westlock Food Bank to help them prepare for the winter months.
On December 4th the Pembina North Choir and the Grade 5 class spread good cheer at the Smithfield and Pembina Lodges in Westlock.  Students sang Christmas carols and delivered hand-made Christmas cards to the residents.
Pembina North students and staff are on a mission to help the Grinch's heart grow! By recognizing and posting Acts of Kindness on the display board we are watching throughout the month of December to see how big the Grinch's heart can get!
"It came without ribbons. It came without tags. It came without packages, boxes or bags. And he puzzled and puzzled 'til his puzzler was sore. Then the Grinch thought of something he hadn't before. What if Christmas, he thought, doesn't come from a store. What if Christmas, perhaps, means a little bit more!" Dr. Seuss
Stay tuned for more stories of Caring & Sharing in our schools.